Nestled in the Great Smoky Mountains of North Carolina, there is a small lakeside town known as Lake Junaluska. Located near Maggie Valley and Waynesville and only 30 minute outside of Asheville, it is the perfect place to escape to when you need a break from life's hustle and bustle. And, not to mention, it is gorgeous.
Photo from https://www.romanticasheville.com/junaluska.htm
The town came into existence in the early 1900s as a retreat for the Methodist church. Since then, it has opened up to people of all backgrounds and has become the ideal place to relax and renew. From boating to fishing to golfing, there is no shortage of things to do. During the warmer months, boat tours are available for only $10 a person. History fans will love the SEJ Heritage Center, and avid shoppers will enjoy perusing the local gift items. The young (and young at heart!) will have a blast playing mini-golf. Looking for the real deal? Check out the Lake Junaluska Golf Course.
One of the biggest appeals of Lake Junaluska is the opportunities for mindfulness and relaxation that the town provides. There are nine areas intended for meditation (listed here). These include a labyrinth path, an inspiration point, and a rose walk. There are also a variety of walking trails in and around Lake Junaluska, including Lake Junaluska Walking Trail, Waynesville Greenway, the many trails of Great Smoky Mountain National Park, and various hikes through Pisgah National Forest.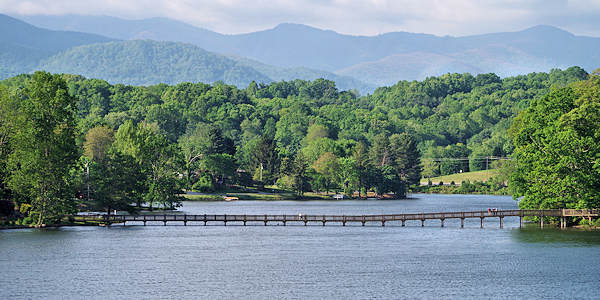 Photo from https://www.romanticasheville.com/junaluska.htm
Lake Junaluska has something for everyone! If you're looking for inner peace, come find it by this beautiful lake!