Pigeon Forge and bears go together like peanut butter and jelly. While traveling down the main drag of Pigeon Forge or Gatlinburg, you will see images of bears practically every few feet. It is not surprising, given that bears have become the mascot of the Smoky Mountains, and especially of the Gatlinburg/Pigeon Forge area. This also makes it logical that one of Pigeon Forge's most widely-known tourist shops is called Three Bears General Store.
One of the things that makes Three Bears General Store unique is its scale. Three Bears General Store is a massive tourist shop. It features two floors and nearly a dozen departments. It features moonshine swag, Smoky Mountain apparel, Christmas goods, and local food items, along with other common Pigeon Forge buys. The size of the store means that it has a tremendous assortment of souvenirs. Whatever you're looking to buy to commemorate your Smoky Mountain vacation, Three Bears General Store is sure to have it!
The other thing that makes Three Bears General Store unique is the fact that it contains live bears. And- get this- you can feed them!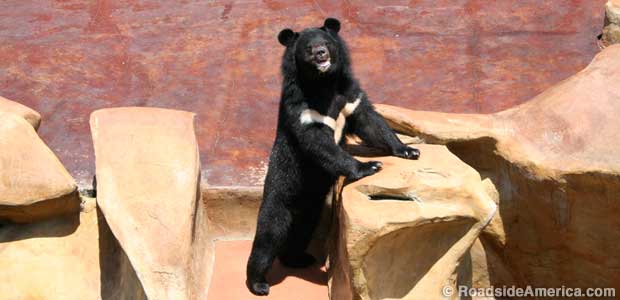 Photo from https://www.roadsideamerica.com/story/2353
To get to the bear habitat, you have to venture up to the second floor and make your way through aisle upon aisle of souvenirs. Once you reach the habitat, you will have to pay a small admission fee ($3), but then you will be able to see the bears roaming around their enclosure. If you want to feed the bears, be sure to go between either 10 AM - noon, 3 PM - 4 PM, or 7 PM - 8 PM.
A trip to the Smoky Mountains can't be complete without a live bear sighting. Instead of happening upon one on a trail, come see one safely at Three Bears General Store!